Our first ever Beat Your Best promotion starts TODAY, giving you the chance to receive cash bonuses at the end of June based on your performance for the month. Thinking of increasing traffic volume or scaling up? Be rewarded for doing so on top of any additional earnings you make.
The goal is simple. Beat your previous best month's earnings by 5%, 10%, or 20%, and be rewarded! Those three tiers each pay out higher CASH bonuses then the next. You'll quite literally earn more, by earning more, maximizing your total earnings for the month of June.
Silver Tier: 5% Increase - Receive a 1% bonus on your total June Earnings.
Gold Tier: 10% Increase - Receive a 2.5% bonus on your total June Earnings.
Diamond Tier: 20% Increase - Receive a 5% bonus on your total June Earnings.
Once logged into to your account, you'll be able to track all of your progress in the top right corner of the affiliate dashboard. You'll be able to see exactly what numbers you need to reach in order to unlock each tier bonus.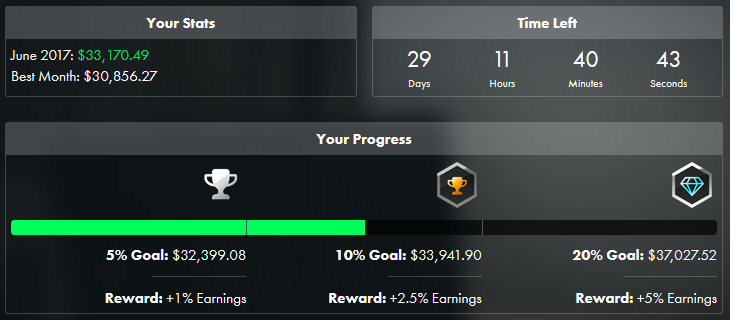 In order to quality for this promotion, you must be an active affiliate who has made earnings in at least one full calendar month at MaxBounty.
Don't hesitate to talk to your Affiliate Manager if you have any questions regarding this promotion.